A great Fiji hackathon took place between Saturday, December 10 and Sunday, December 18, 2011 at the MPI-CBG, which besides hosting also provided generous sponsoring of food and accommodation, and again brought together biologists and developers associated with the various bioimage analysis projects.
Topic
The topic was Integration, including: Fiji + ImageJ2, OMERO + ImageJ, KNIME + ImageJ, Icy + ImageJ, OMERO + Icy, KNIME + OMERO and more.
This is the hackathon where the SciJava idea was originally born!
Participants
There were 25 people participating at various times, though only a few stayed for the entire duration.
Here is the list of participants together with their primary affiliation:
Timeline
The following chart illustrates when everyone was present: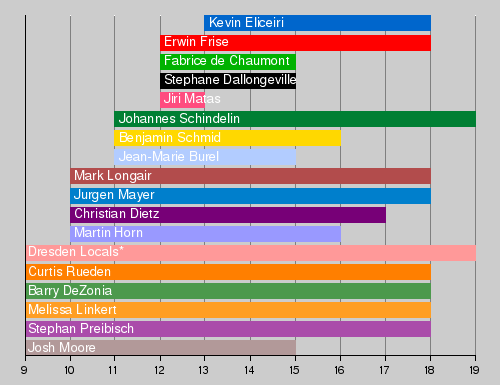 * Dresden locals include:
Fernando Carrilo
Michael Doube
Tom Kazimiers
Alex Krull
Tobias Pietzsch
Peter Pitrone
Daniel James White
Pavel Tomancak
Some locals were not present at the hackathon on weekends.
Photos
Dresden Hackathon 2011 Pictures by Vineeth Surendranath