High-Pass Filter
A plugin-filter providing a high-pass command. It subtracts the Gaussian blurred input image from the input image.
Dialog Options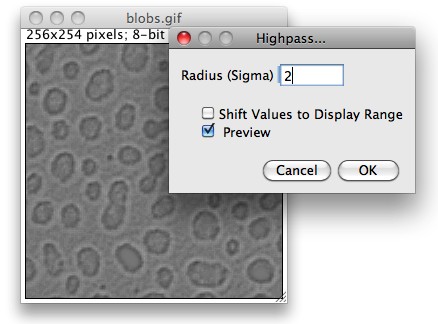 Radius (Sigma) is the standard deviation (blur length) of the Gaussian that will be subtracted.
Scaled Units (spatially calibrated images only) should be selected if "Radius (Sigma)" is not in pixels but in physical units (e.g., micrometers).
Shift Values to Display Range adds an offset so that the output will fit into the currently displayed data range. This option should be selected when processing only a selection of a 32-bit (float) image that does not have its pixel values around zero. This option is also useful for most 16-bit images.
Preview is available with the Preview checkbox. If "Shift Values to Display Range" is unchecked, the offset, i.e. the output created by flat portions of the image, will be 0 for 32-bit float, 32768 for 16-bit and 128 for 8-bit (grayscale or RGB) images.
Pixel Value Calibration (8-bit & 16-bit images only)
If the full image is processed, for grayscale 8-bit and 16-bit images, the grayscale (pixel value) calibration will be set to have zero value at this level. Thus, one can use, e.g., Process>Math>Square after high-pass filtering to highlight all pixels deviating from their surrounding.
Note that Undo will revert only the image contents, not the calibration.
Download
Source code High_pass.java on GitHub (make sure you download the raw file, use the button near the top right)
Class file High_pass.class on GitHub
Installation
Copy the raw High_pass.java file into the ImageJ plugins folder or a subfolder thereof. Make sure that you name the downloaded file "High_pass.java"; uppercase/lowercase matters.
Compile with "Compile and Run" and press "OK". Note that "Compile and Run" is currently broken on Fiji; as a workaround use File>New>Script, open the High_pass.java file and press "Run".
Alternatively, directly save the .class file High_pass.class into the ImageJ/plugins directory or an immediate subdirectory thereof. Again, make sure that you name the file correctly, uppercase/lowercase matters.
Use Help>Update Menus or restart ImageJ to make it appear in the Plugins menu (not necessary if you have used the Fiji Script Editor).
Version history
Version 2020-Jan-03, Michael Schmid: Non-blocking dialog