Gut Analysis Toolbox enables semi-automated analysis of the neuronal and glial distribution within the gut wall (enteric nervous system). It uses a combination of FIJI macros, StarDist, CLIJ and deepImageJ for segmentation and analysis.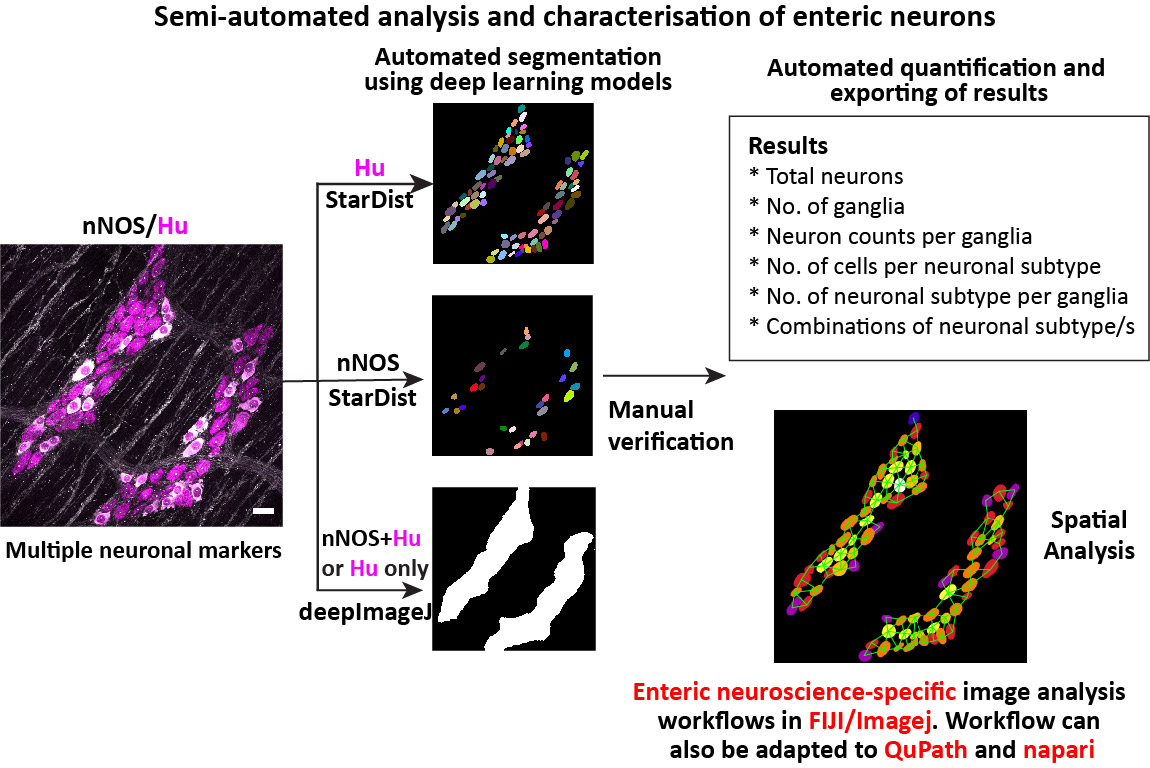 Click here to access the WIKI detailed instructions on how to use GAT.A detailed how to use instructions with wiki is available here:
You can also watch tutorials for GAT on Youtube.
What you can do with GAT:
Semi-automated analysis of number of enteric neurons: Uses pan-neuronal marker Hu or anything with similar labelling
Normalise counts to the number of ganglia.
Count number of neuronal subtypes, such as ChAT, nNOS etc..
Spatial analysis using number of neighboring cells.
Calcium imaging analysis: Alignment of images and extraction of normalised traces
Reference
Software citation on Zenodo:
Luke Sorensen, Ayame Saito, Sabrina Poon, Myat Noe Han, Adam Humenick, Keith Mutunduwe, Christie Glennan, Narges Mahdavian, Simon JH Brookes, Rachel M McQuade, Jaime PP Foong, Sebastian K. King, Estibaliz Gómez-de-Mariscal, Robert Haase, Simona Carbone, Nicholas A. Veldhuis, Daniel P. Poole, & Pradeep Rajasekhar (2022). Gut Analysis Toolbox (1.0.0). Zenodo. doi: 10.5281/zenodo.6095590
To download the training data, notebooks and associated models please go to the following Zenodo link: