Today the ImageJDev team is releasing the sixth beta of ImageJ2, version 2.0.0-beta6.
ImageJ 2.0.0-beta6 is a "beta"-quality release, meaning the code is not finished. The design is more stable than before but still subject to change until the final 2.0.0 release. It is recommended that people continue to use ImageJ v1.x for critical work.
Download from the ImageJ2 development releases page, which also has a timetable for future releases.
The ImageJ2 user interface is modeled after ImageJ v1.x as much as possible. However, under the hood, ImageJ2 is a complete redesign of ImageJ. It provides backward compatibility with older versions of ImageJ by bundling the latest v1.x code and translating between "legacy" and "modern" image structures.
What's new
Development of this release of ImageJ focused on improved legacy support.
Application level changes

Architecture changes
Compatibility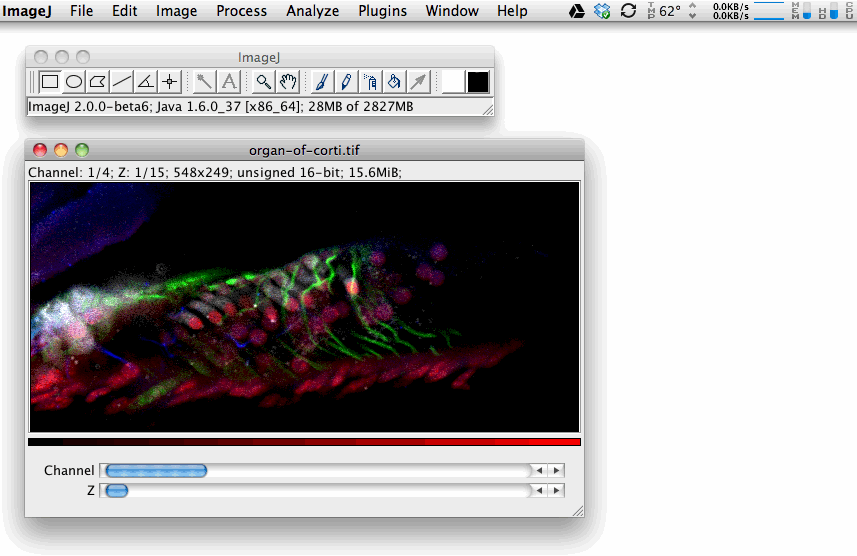 There have been numerous compatibility improvements and bugfixes. Since beta5 the team closed 54 issues and made progress on many more. For instance, there is improved support for legacy commands such as: Image Type, Apply LUT, Cut, and Fill. See the full list of beta 6 changes here.
Legacy mode
Although we emphasize backwards-compatibility strongly, and tried to design the architecture with that emphasis in mind, some legacy plugins still do not work. However, since we bundle a complete ImageJ 1.x, it was not too difficult to include a fallback "legacy mode" for such case. In this legacy mode, all image displays are hidden and those that are compatible with ImageJ 1.x are shown in old-style windows. Likewise, the main window is hidden in favor of ImageJ 1.x's main window. To go back, the command Switch to Modern Mode is available in the Help menu.
Updater changes
Sample Image uploader
Often it is impractical to attach an example image demonstrating some problems, e.g., with I/O. Some images are too large, or the scientists might not be comfortable just yet to publish the image. The new Help › Upload Sample Image command allows users to upload images to the ImageJ development server, where only a small number of trusted developers can access the images. This command was inspired by Fiji's command of the same name, but it is both more robust and faster than the original.
Examples for developers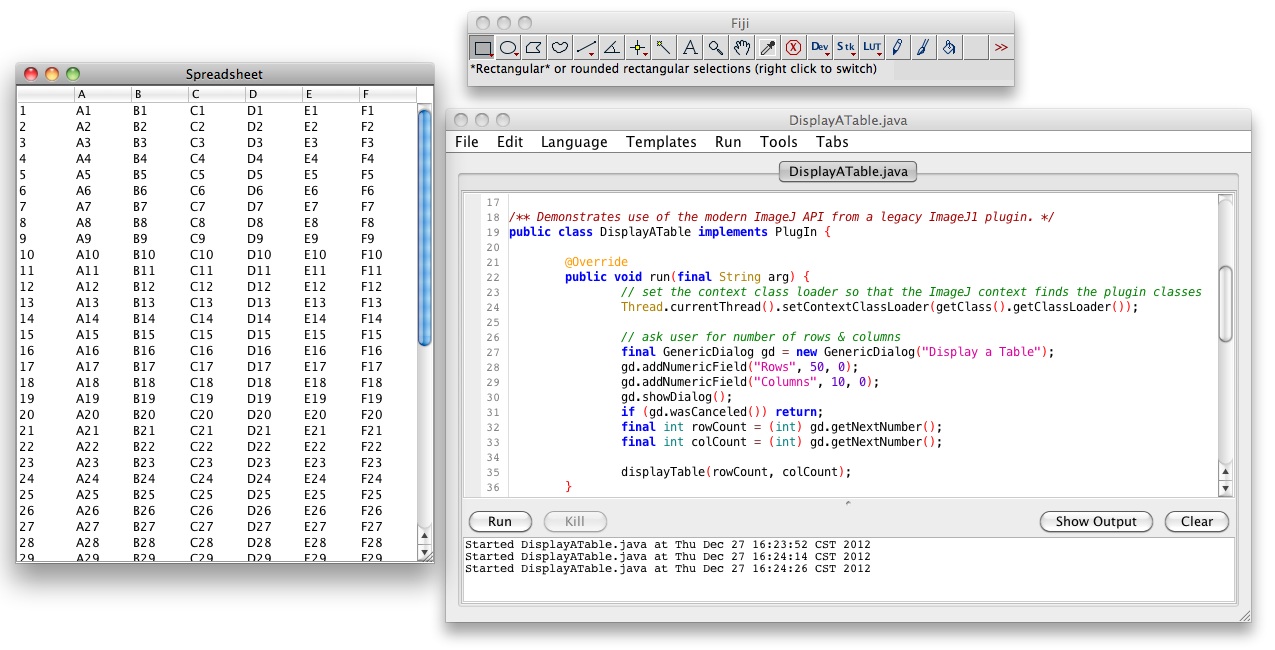 We have continued to flesh out example code for developers. Since beta5 there are two new tutorials available:
SLIM Plugin
Work continued on the beta SLIM Plugin to fix bugs and improve functionality. The focus was on adding missing functionality that would make LOCI scientists want to start using SLIM Plugin as their primary FLIM fitting tool. Improvements were made to the histogram to calculate the median and quartiles, to zoom in on the interesting range of values, and to export those values to text. A batch mode was added so that SLIM Plugin can be run from a macro file and process all of the files in a directory, exporting pixel values and/or histogram bin counts.
See the SLIM Plugin website for details.
Features
See this report for a high-level list of features completed for the 2.0.0-beta6 release.
Bugs fixed
38 bugs were fixed. In particular, the following known bugs from previous betas were closed this cycle:
Known bugs
Many legacy ImageJ plugins and macros work; some others do not. In particular, the following bugs still remain from previous betas:
See the list of Open Features for a high-level list of planned features and bugfixes.
Roadmap and future directions
We make a substantial effort to document the work we are doing, and what needs to be done, to deliver a powerful and full-featured ImageJ2. All tasks are tracked by our Trac issue tracking system, which you can review in several ways:
To more accurately reflect what is left to do, we have again reestimated ImageJ2's release dates, and scheduled additional betas before the final 2.0.0 release. See the ImageJ2 development releases page for the updated release timeline.
Thanks
Thanks for your interest in ImageJ2! Please give it a try, and feel free to report any bugs you find!